What the heck is it???
1.

Wedge shaped cast iron, 1 or 1 1/2 inches thick Not a plumb bob.
2.
bottle
Answer!

KVHS member and dig volunteer, Scott Bocock, brought in this example of an 1880-1890 food jar. Thanks Scott!
3.

ceramic, stamped D & S ever-ready
Information discovered about this item: The Davidson & Stevenson Porcelain Co. was founded in 1913 (catalog says 1914) to make specialty porcelain (non-pin-types). They leased another pottery plant at the northeast corner of Broadway and 6th streets in East Liverpool from 1913 to 1919. This plant reverted to Hall China Co. in 1920. When Stevenson left the company in 1920, the name was changed to The Davidson Porcelain Co. Operations were suspended in 1936. They primarily made specialty porcelain (knobs, cleats, spools, etc.). Insulators from the earlier operation were embossed "D & S", "D & S P Co.", "EVER READY", or "EVER READY / D. P. Co.". The specialty porcelain insulators would have been made of dry process porcelain. Go here for more information about this particular type of insulator: Thanks you Jim Wozniewski for submitting information. http://www.oldhouseweb.com/stories/Detailed/14214.shtml
4.
sheet metal lid
5.

copper? strap metal
6.


We would like more information about the above "butter knife (?)".
7.
We would like more information about this spoon. It is marked "german silver" on the back side.
Appears to be a fiddleback style spoon similar to those carried by Union soldiers during the Civil War.
Information about german silver: Name for various alloys of copper, zinc, and nickel, sometimes also containing lead and tin. They were originally named for their silver-white color, but use of the term silver is now prohibited for alloys not containing that metal. German silver varies in composition, the percentage of the three elements ranging approximately as follows: copper, from 50% to 61.6%; zinc, from 19% to 17.2%; nickel, from 30% to 21.1%. The proportions are always specified in commercial alloys. German silver is extensively used because of its hardness, toughness, and resistance to corrosion for articles such as tableware (commonly silver plated), marine fittings, and plumbing fixtures. Because of its high electrical resistance it is used also in heating coils. It was discovered (early 19th cent.) by a German industrial chemist, E. A. Geitner. Thanks you Dick Schmal for submitting information.
8.

We would like more information about this clay pipe.
9.

Appears to be a part for a cook type stove. We need more information or correction.
10.
Unknown pottery base manufacturer mark. Need more information.
Information submitted by Elizabeth Holtz:
Unger & Schilde china makers mark. So here for more information: http://www.porcelainmarksandmore.com/thuringia/roschuetz_1/00.php
11.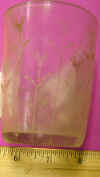 Etched glass. Need more information.
12.

Might be some sort of sewing tool, but would like more information on what it actually is. Possible ear wax spoon. Yah, I know. Gross, but they were in use before q-tips.
Contact: jophod@jorsm.com