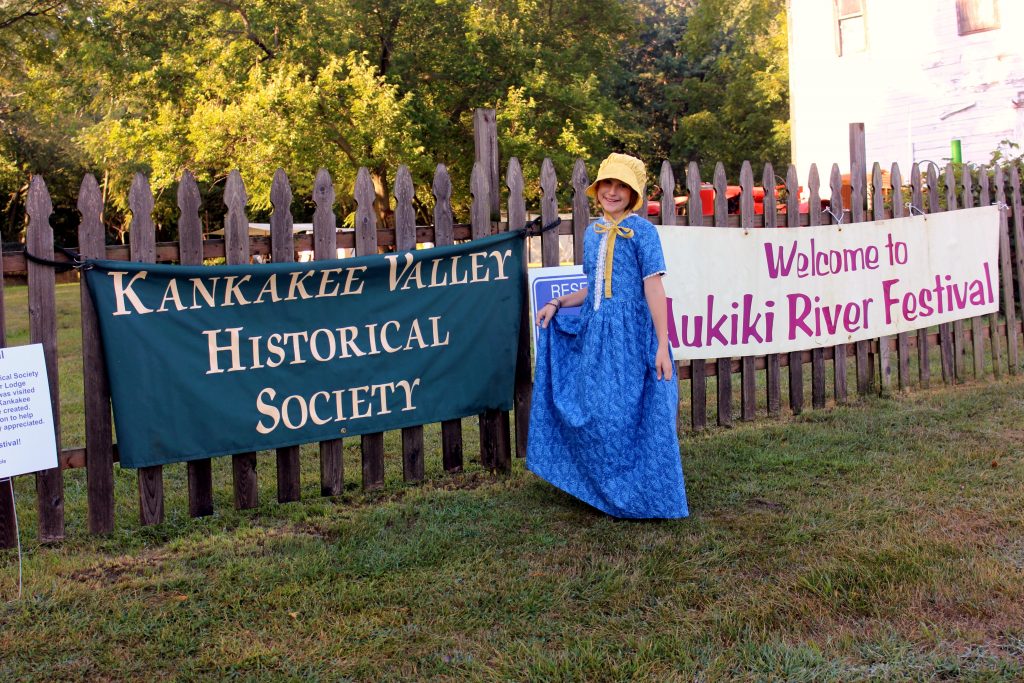 Aukiki River Festival 2019
August 24 & 25, 2019
1097 Baum's Bridge Rd.
Kouts, Indiana
When: 9 a.m.-5 p.m. Saturday; 10 a.m.-4 p.m. Sunday
Where: Collier Lodge, 1097 Baums Bridge Road, Kouts
Admission: $5 adults; free ages 12 and younger
Aukiki River Festival Facebook page
Aukiki River Fest Features Historical Exhibits
By Jessi Virtusio
Post-Tribune
Historical re-enactors and encampments will transform Collier Lodge in Kouts to yesteryear for a weekend. Kankakee Valley Historical Society presents the ninth annual Aukiki River Festival on Saturday and Sunday along the Kankakee River.
"We really try to tell the whole story of the Kankakee River, starting with Native Americans and running through the different cast of characters, and go up to the 1930s," said John P. Hodson, founder and president of Kankakee Valley Historical Society.
New interactive demonstrations this year include tanning using historical technique and antique corn processing with a hit-and-miss engine.
"It's turn of 20th century. A hit-and-miss engine was about the only source of power there was. A lot of farmers bought these things. Then they would attach different pieces of equipment to it," said Hodson, who lives on the Collier Lodge property in Porter County.
"Brain tanning was a thing the Native Americans did. They used brains, and it was part of the tanning process."
Also, new for 2016 is a Civil War re-enactment of when then-Gov. Oliver P. Morton ordered the Ninth Indiana Regiment, of both Porter and LaPorte counties, to arrest a mysterious traveler crossing present-day Baum's Bridge in 1861.
"We're doing a re-enactment of John C. Brain's capture," said Hodson about the man who appeared to be a Southern gentleman but was a Confederate spy trying to recruit soldiers for the South during the Civil War.
"We're going to have this skit of his capture and then we're going to narrate the story. I'm really excited about that. It's going to be neat to actually have it where it happened."
Aukiki River Festival also added a small steam equipment display, a Indiana bicentennial display board with 200 years of facts and how the counties got their names, and a display board of Collier Lodge history and restoration.
The event benefits restoration projects such as Collier Lodge, Linden Cabin and the bridge formerly near the Grand Kankakee Marsh.
"I own 150 acres. I bought the Collier Lodge. That's how we got started to save the buildings," said Hodson. "I plan on leaving my property to Porter County Parks because it's such a great opportunity that needs to be preserved."
Porter County Parks and Recreation hosts a scavenger hunt during Aukiki River Festival, which draws Kankakee Valley High School students as part of a class assignment and features volunteers including students from Valparaiso University and Portage High School Junior ROTC.
Other attractions include an antique auto and agricultural equipment display, a black powder shoot, children's crafts, Civil War-era quilting, a historic fashion show, paddle making, period food, a trap and skeet shoot, and music by Trois Canards, Susan and Gary Brown, and Trilly Cole.
"We try to entertain the people and educate the people," said Hodson.
Aukiki River Festival
When: 9 a.m.-5 p.m. Saturday; 10 a.m.-4 p.m. Sunday
Where: Collier Lodge, 1097 Baums Bridge Road, Kouts
Admission: $3 adults; free ages 12 and younger
Information: 219-766-2302 or http://kankakeevalleyhistoricalsociety.org/Wordpress1-13-2017/
Copyright © 2017, Post-Tribune
By Mary Hodson
KOUTS | Kankakee Valley Historical Society hosts 10th annual Aukiki River Festival August 26, 9 am – 5pm and August 27, 10am-4pm, 1097 Baum's Bridge Road, Kouts, Indiana.
What happens when you bring together some of Northwest Indiana's finest historical re-enactors, musicians, and a long summer day outdoors? The Aukiki River Festival at the historic Collier Lodge on Baum's Bridge Road, August 26th and 27th. Great old time music, historical encampments with hands-on activities, children's crafts, and much more are part of a summer weekend along the banks of the Kankakee River.
Experience life as it was, with over 350 years of history re-enacted. Interact with re-enactors at the French-Indian War, Native American, French Voyageur, Fur Trapper/Trader, Civil War and Pioneer encampments. Shop trade blankets, Traders' Row and Collier's General Store. Relax and enjoy period food, including bison burgers and wild rice cranberry soup, while listening to the musical sounds of the Trois Canards, Susan & Gary Brown and Trilly Cole. Demonstrations and activities fill the weekend—blacksmith, trap and skeet shoot, black powder, flint knapping, paddle making, quilting, spinning, fabric dying, children's crafts and much more.
Susan O'Leary Times Correspondent
KOUTS — Deer skinning, rifle shooting, and wood fire cooking were featured Saturday on the banks of the Kankakee River near the Collier Lodge at the ninth annual Aukiki River Festival.
The festival, which grows each year in popularity, highlights a way of life led by fur traders, French voyageurs, pioneers and soldiers of the French and Indian War and Civil War from the time of early American Indians to the 1940s.
At least 40 historical re-enactors in period garb gathered to take visitors back to bygone eras.
Displays included antique automobiles and old-time vendors selling wares, like wooden utensils and bowls, colorful trading beads, clothing, weavings and animal skins.
The Trois Canards and Trilly Cole entertained visitors with their fiddle and banjo music, while food vendors offered wild rice cranberry soup, bison burgers, pumpkin scones, apply baby cakes and sassafras tea.
John Hodson, of the Kankakee Valley Historical Association that sponsors the festival, said last year's attendance for the two-day festival topped 3,000.
"This year, we're doing better than that," said Hodson. "I can tell by the overflow parking."
Hodson said festival vendors are encouraged to engage the crowd, such as Daniel Vogt, of Sheridan, Illinois, who portrayed a pioneer and demonstrated buckskin stripping and tanning, and brothers Bruce and David Vasa, of Chicago, who portrayed two French militia men in the 1750s.
River festival shows growth heading into 9th year
By Amy Lavalley
Post-Tribune
August 24, 2016, 11:48 AM
The ninth annual Aukiki River Festival kicks off Saturday with a step back in time that includes a live re-enactment of a bit of Civil War history.
The festival takes place Saturday and Sunday at the Kankakee Valley Historical Society's property on Baums Bridge Road outside of Kouts, also the site of Collier Lodge and along the Kankakee River.
The last couple years, we're up to around 3,000 (attendees)," said John Hodson, president and founder of the historical society, which puts on the festival. "We're pleased with that."
The event also coincides with the 40th annual Kouts Pork Fest on Saturday, held in downtown Kouts, as it has for the past several years.
"That's what the idea is, to have people go out to Pork Fest and head out to our place for a while," Hodson said.
The Aukiki River Festival spans several hundred years of the history of the people who lived along the Kankakee River. The festival includes Native American, French voyageur, French and American Colonial, British military and Civil War re-enactors, among others.
"We start as early as people started living here to 1930, and that's about our cut-off," Hodson said. "A lot of (historical) societies have served a narrow view and ours is very wide."
The festival attracts visitors because of that view, he said, as well as conservation groups because their work goes hand-in-hand with preserving the Kankakee River.
The event also includes a re-enactment of Confederate spy John C. Brain's crossing at Baum's Bridge, which occurs at 2 p.m. on both days of the festival.
Brain, according to Hodson, passed through the area in September 1861 on a mission to carry dispatches to Confederate officials in Montreal and recruit volunteers along the way.
Brain was captured here by the 9th Indiana Volunteer Infantry Regiment and transported to their camp in LaPorte but escaped before he could be imprisoned.
"I just think it's a great piece of history," Hodson said, adding he came up with the idea. "It's something new to keep the festival fresh."
Post-Tribune columnist Jeff Manes will narrate the re-enactment, Hodson said.
Kouts area events this weekend
The Aukiki River Festival takes place from 9 a.m. to 5 p.m. Saturday and from 10 a.m. to 4 p.m. Sunday at 1097 Baums Bridge Road, Kouts. Proceeds from the festival benefit the Kankakee Valley Historical Society's restoration projects.
River festival an annual history lesson
By Amy Lavalley
Chicago Tribune
The Hanselman family has a tradition now in its fifth year.
The Wheatfield clan goes to Kouts Pork Fest, and then heads to the Aukiki River Festival before going home.
They followed that tradition Saturday, wandering around the river festival, along the bank of the Kankakee River, with their three kids, ages 7, 4 and 7 months, in tow.
"It's more educational toward the kids. It shows them how it used to be," Troy Hanselman said of the event, which features re-enactors covering a span of hundreds of years.
"And they like the demonstrations that they do," Michelle Hanselman said. "It's very family-friendly."
This was the ninth year for the festival, which continued Sunday and for the first time included the re-enactment of the capture of a Civil War spy.
In addition to offering an educational opportunity for its visitors, the festival also provides exposure for the Kankakee Valley Historical Society and the work it's doing, said John Hodson, the society's president and founder.
That work includes rebuilding the Linden Cabin, which formerly was in what's now the Indiana Dunes National Lakeshore and dates back to the 1860s, and restoring Collier Lodge, an old hunting inn from the late 1800s and early 1900s that drew a wide array of dignitaries and politicians during its heyday.
A teacher from Ivy Tech recently learned about the Linden Cabin and wants to take a look and possibly get a class involved to do some of the work, Hodson said, adding the festival potentially could draw other volunteers.
"That's what I'm always hoping for," he said. "You keep plugging away to get your name out there."
Daniel Vogt, of Sheridan, Ill., demonstrated a technique called brain tanning, which uses the brain of a deer mixed with water to tan the animal's hide.
The process also requires rubbing the skin as it dries to bring up the nap of the hide and smoking it to preserve it and bring out a rich, brown color.
Vogt, who said his time period was the late 1700s, described the labor-intensive process and said he's been a re-enactor since 1998, although this was his first time at the river festival.
"Two hundred years ago, they kept the skin, and the meat went to waste," he said, adding the tanned hide would have been used for clothing, worn by Native Americans before their contact with Europeans, and by Europeans who did not have enough money to buy cloth.
Also at the festival for the first time was Lori Falk of Hobart, who said she likes historical re-enactments but has only been to a few of them.
"I'm enjoying listening to people talk about the history. I think it's kind of cool," she said.
Amy Lavalley is a freelance reporter for the Post-Tribune.
Copyright © 2017, Chicago Tribune
Jessica Nunemaker aka "Little Indiana" travels the length and breadth of Indiana investigating festivals and other events for her television, newspaper and blog travelogue. In 2013 she visited our Aukiki River Festival and listed it the best small festival in Indiana. Go here to read her thoughts about our festival: http://littleindiana.com/2013/08/aukiki-river-festival-kouts-Indiana/
https://www.youtube.com/watch?v=bhvxVtMo_ZM
ARF 2019 Rules and Regulations