Lew Wallace continued an active life even into his golden years. One project that he had dreamed of for many years was the construction of a study. Wallace was now financially secure and had the funds to build his own private retreat. Wallace wrote: "I want a study, a pleasure-house for my soul, where no one could hear me make speeches to myself, and play the violin at midnight if I chose. A detached room away from the world and its worries. A place for my old age to rest in and grow reminiscent, fighting the battles of youth over again." Wallace designed it with a combination of Greek, Byzantine and Romanesque architectural designs. The main building is 30 foot high and capped with a copper dome. Attached is a 40 foot tall tower that houses an enormous fireplace. To the rear is a workshop where Wallace tinkered on his inventions. Yes, he was also a patented inventor! The estimated cost of the study was a princely sum of about $30,000. The building now houses the Ben-Hur Study & Museum. It is well worth the trip to Crawfordsville and learn more about Wallace there!
Lew Wallace was an honorable and service-minded man. Anticipating the Spanish-American War of 1898 Wallace withdrew campaigning from his senatorial race and offered to raise and lead a regiment—at the age of 71! He wrote: "In view of the certainty of war with Spain, I today tendered the national government my services in the field." Wallace was respectfully denied the commission. He then tried to enlist as a private—denied again.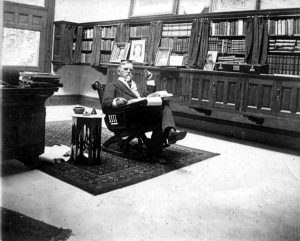 Wallace had a strong connection to the Kankakee River and continued to visit until poor health prevented it. William Betterton owned property at Baum's Bridge and wrote in 1934: "General Lew Wallace had a houseboat on the river and for some time made his headquarters near Baum's Bridge. With his son Henry, the general came every spring and fall to hunt and fish, and write and rest. I remember him as a tall, well-built man, with an iron gray moustache and goatee, a military bearing stamped indelibly upon him. I remember him as a very genial man who would set at ease anyone who came in his presence, regardless of his station in life. He was especially gracious to the local folks." Roley Morehouse wrote: "I recall my acquaintance with General Lew Wallace, one of the greatest men I ever knew. I could talk about him for days. He was a great lover of the Kankakee. I have talked with him on many occasions, and he has been my guest in my home many times."
I have only scratched the surface of Lew Wallace's life in my last six columns. Most of his books are still in print. I strongly recommend reading "Lew Wallace: Militant Romantic" by Robert and Katharine Morsberger.
In 2016 Indiana will be celebrating its 200th year of statehood. This will be a time when we recognize those who have left a lasting influence on us. I can think of no better couple to honor than Lew and Susan Wallace and should top the list of Hoosiers acknowledged during Indiana's bicentennial commemoration.