Rowley Morehouse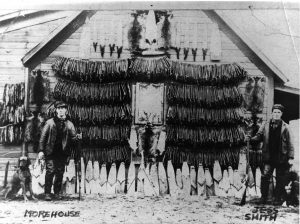 By John Hodson
Jan 4, 2016
One of my First columns was about the Rowley and Bertha Morehouse 50th anniversary in 1937. Rowley was arguably one of the most knowledgeable and legendary characters of the old Kankakee River. Rowley was born in 1859 in Michigan. Around 1882 he moved to Jasper County, Indiana. Eventually, Morehouse owned 1000 acres along the Kankakee River south of Baum's Bridge.
Rowley farmed, timbered, trapped and hunted the Kankakee River. Trapping back then was a very lucrative business in the Kankakee Marsh. Morehouse stated "if I didn't get half a dozen mink or coon in one day I didn't consider it a normal day at all." Hunting and acting as guide were other sources of income. "My brother William and I and two or three other hunters got 225 ducks and 21 geese in three days" said Morehouse.
Morehouse had about 700 acres under cultivation with the rest used for trapping and hunting. Kankakee River land was becoming more valuable and sought after. Just prior to WW I prices jumped from $12 an acre to as high as $175. One marsh land investor "announced that he would buy the whole county of Jasper if they would abolish the courthouse."
Morehouse was well acquainted with the rich and famous that came to the Kankakee Marsh. He was honored to count General Lew Wallace as one of his friends. "I have talked with him (Lew Wallace) on many occasions, and he has been my guest in my home many times… He seemed to like my stories and often urged me to tell them. At one point not more than 80 rods from Oxbow Bend he wrote 13 chapters of his famous story, Ben Hur."
I think my favorite yarn told by Morehouse was the story of Chief Pokagon's granddaughter. In 1879 Morehouse lived at Houghton Lake, Michigan. "There were lots of Indians and I got acquainted with some and went down to their place every Saturday night and took a pint" said Morehouse. Later when Morehouse lived in Jasper County he "went to Valpo with a load of hogs. Going up the hill on Franklin Street I saw the Indians in camp there." He struck up a conversation with a young Indian lady. He asked her how she liked Valparaiso. She told him "Oh, fine, the men are so nice. They take me to Flint Lake and to Wanatah." Rowley asked her if she knew Chief Pokagon and she replied "He's my grandpa. They brag about my American blood when we visit." She told him that Chief Pokagon was at Flint Lake, but she could not join them because there was no room in the car. Being the gallant man he was, Rowley told her he would return later and take her to Flint Lake. He went home and told his wife that he was returning to Valpo that evening. "She thought she was going too, and asked me what was going on in Valpo. I told her I'd met an old pal and she asked me to come back tonight." The "she" is the key word here! "The wife's lips turned blue and she said she wasn't going, and you ain't going either! It looks stormy and you have a bad cold. That was the end of the argument. I didn't go to Valpo." So ended Rowley's escapade to Flint Lake!
Rowley Morehouse passed away on October 17, 1942 and is buried at the Kouts Graceland Cemetery.