All registrations need to be filled out and submitted by August 14th. 
Summer is here! Warmer days bring summertime activities. One traditional summer activity is community picnics. We see our Kankakee Valley Historical Society as a community of like-minded folks celebrating the great Kankakee Marsh story. This summer, the Kankakee Valley Historical Society (KVHS) Board of Directors has decided to hold a KVHS picnic. If you are a current KVHS member please register. Non KVHS guests may purchase tickets here:  Membership applications are below the picnic registration. We ask you to send in your membership application by August 14th. We welcome you to join us: Your KVHS membership helps to provide activities that move KVHS forward with our mission of history, culture and ecology/ conservation.
We are lining up some fun and interesting activities for your enjoyment including: The Izaak Walton Mobile Archery Clinic will be setting up its archery range for kids and young at heart.
This is an opportunity for our guests to learn how to safely shoot bow and arrow. All equipment and instructors are on hand to help you through the process; The Kankakee Valley Conservation Club will be setting up targets for the more experienced, so bring your bow and fling a few down-range.
One of the missions of the Kankakee Valley Historical Society is conservation. Cindy Deardorff will conduct a show and tell about the KVHS Native Gardens. Learn how Native Americans cultivated their vegetable and medicine gardens;
Porter County Parks and Recreation naturalist, Lisa Hokky, will discuss conservation practices of the Kankakee Valley and more.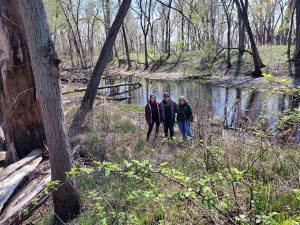 This is a casual affair, you choose the activity you wish to join in.
KVHS will supply hamburgers, hot dogs and chips. You're welcome to bring additional food or drinks for your family. You will need to bring your own chairs and any other picnic needs.
The Kankakee Valley Historical Society Board of Directors want to know you better, and this is an opportunity for you to learn more about KVHS. This is a chance to ask questions and make suggestions that help move our Society forward. Go here to register and/or complete a KVHS membership application: https://kankakeevalleyhistoricalsociety.org/?page_id=2843 To plan for enough food we ask that you register by August 14th. Non KVHS members go here to purchase tickets.
We look forward to seeing you on Saturday, August 28th at our historic Collier Lodge site, 1097 Baum's Bridge Rd. Kouts, IN 46347. We will open the gates at 11AM. Lunch will be served from noon to 1PM. The archery facility will be open till 2 or 3. In case of rain we will hold our society picnic on Sunday, August 29th.
All registrations need to be filled out and submitted by August 14th. 
Not a current KVHS member?
KVHS Family Membership application.
KVHS individual membership application.